Company Profile
The automotive industry, which is developing year after year, and other various technological industries are embarking on a new era of great technological innovation. Devices in these kinds of industry fields require not only system technologies as a commercial product but also components that have high-level functionalities and reliability.
Since the company was established in 1958, NHK Precision Co., Ltd. has developed and expanded steadily undertaking the precision processing section in the NHK Spring Group. We are also pursuing more advanced precision processing technologies in order to respond to the more diversified, upgraded, and consolidated needs of each industry. Currently, in addition to many years of developing our technology in plastic forming, heat treatment, and grinding/polishing techniques, we are pursuing ultra-precision processing and entering into the submicron world. Moreover, we are offering precision parts for each industrial field as automotive, information machinery devices, and mold tool parts.
In the future as well, it is our continuous aim to be the global industry leader with our excellent technologies, to provide precision parts with reliability and evaluation, and to make positive contributions to an affluent society. Our first priority is always placed on customers, and we would like to continue the advancement with a legacy of being a reliable company through activities such as positive technological development, efficient production, and scrupulous sales service.
The president – Takeshi Kamisaku
Technology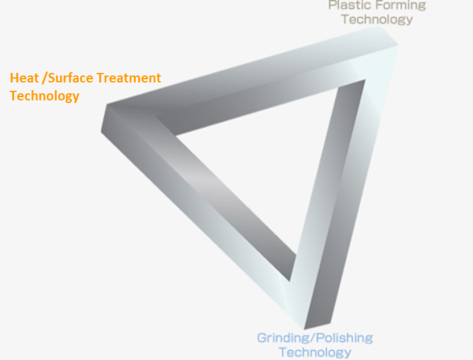 Harmony of Technologies Creates Triangular Power
Important elements of our precision technologies consist of three technologies - <Heat Treatment>, <Plastic Forming>, and <Grinding/Polishing>.
Each technology maintains high-completion rates, because incompletion of any one of these may result in the failure to offer high-quality products. These technologies also create new products that are highly evaluated in many fields.
Evaluation & Development technology
Complete evaluation/development technology
Our engineering technology is developing product with originality.
For that, based on precision processing technologies developed for many years, we have continuously attempted from multi angles for more innovative development.
Especially for development of new items, and expansion of technology or development of specialized machinery, we are coordinating the formation of teams for each item. We regard these projects as a continuing work in progress.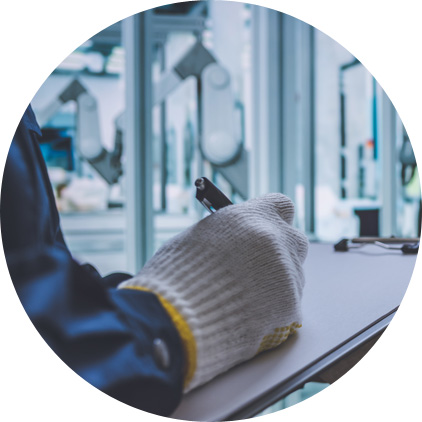 Recruit
夢と希望を持って日発精密工業を担っていただける、
創造性豊で、明るく行動的で失敗を恐れない人材を求めております。

2-1-49,Numame, Isehara-shi, Kanagawa, 259-1126, Japan
TEL:+81-463-94-5235 FAX:+81-463-93-5104
Copyright © NHK PRECISION CO.,LTD. All Rights Reserved.