Our processing technology for forming the screw head punch has such high level precision processing technology that no other company can mach it. Moreover, it is produced with thorough quality control ensuring superb character like high precision and consistent quality.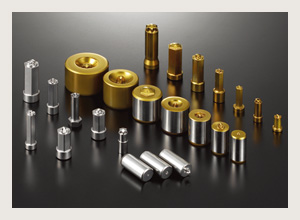 Punch
Punches produced by NHK Precision are called header punches and one of the dies used for screw manufacturing.
In the screw header processing, the punches are used to form the screw head and its recess to be driven with a screwdriver, which is one of the critical elements of the fastener.
NHK Precision manufactures screw header punches by drawing on the plastic working technology to produce high speed tool steel by cold forming.
The punches are used for manufacturing of screw products for a wide variety of applications ranging from ultra small screws for smart phones to bolt-size screws for automobiles.
The punches have been popularly used by customers since 1966 with the name of NHK High Speed Steel Punches.
Based on its knowhow accumulated in the long years, NHK Precision continues to develop and supply many different types of long-life punches.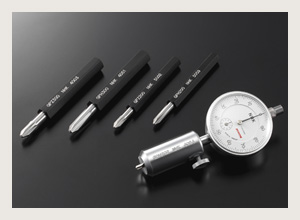 Q Gage/ Plug Gage
By making use of its grinding technique, NHK Precision provides quality check gauges for screw head recesses to be driven with a screwdriver.
These gauges are used to control the depth and opening of screw head recesses and indispensable to quality management of screw products.
NHK Precision mainly produces hand plug gauges for fitting check and "Q" dimension (depth of recess) measuring gauges conforming to applicable standards.
The "Q" dimension gauge consists of three parts: a gauge pin (probe), a sleeve (body) and a dial gauge.
NHK Precision can also offer other dedicated gauges upon request by customer for special control. Please feel free to make a request.

2-1-49,Numame, Isehara-shi, Kanagawa, 259-1126, Japan
TEL:+81-463-94-5235 FAX:+81-463-93-5104
Copyright © NHK PRECISION CO.,LTD. All Rights Reserved.